CoB was established in 1986 as the first public business school in the Kingdom of Bahrain. It is the largest college in the Kingdom of Bahrain with +6000 students and +25000 alumni. CoB has succeeded over the years to maintain inclusion and diversity among faculty and students and international exposure as shown in Figure 1.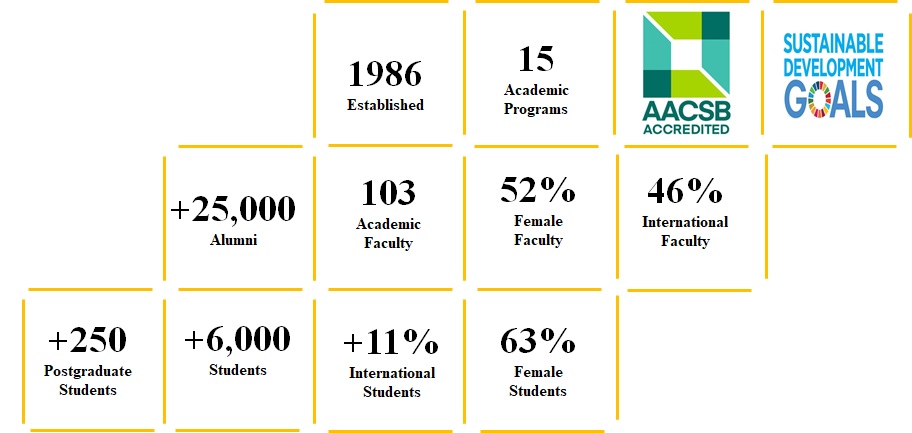 Figure 1. CoB Facts 2020
Strategic Management
The College aims to prepare and inspire tomorrow's managers and to provide excellence and innovation in education, research that have an impact on Bahrain and the region. The shared motivations and beliefs, which bind our College are:
Innovation: The College aims at supporting education through the implementation of processes that accelerate innovation.
Excellence: The College believes in high quality education through the implementation of excellence in teaching and research. The excellence edge is to supply the labor market with skilled graduates.
Teamwork: The College is built on the value of productivity and efficiency through teamwork and being a team player.
Ethics: The College values ethical considerations of all its members embedded in teaching, research and community activities and/or services.
Internationalization: The College values the international partnerships in discovery, application and dissemination of knowledge.
The 2020-2024 strategic plan of the College aims to achieve the following goals:
Goal 1: Strengthen External Engagement and Collaboration
Goal 2: Enhance Graduate Knowledge, Skills, and Competencies
Goal 3: Raise Staff Performance
Goal 4: Advance the College's Visibility and Reputation
During the period 2016-2019, the College achieved of 67% of the KPIs in the 2015-2019 Strategic Plan and among these achievements, we can cite:
AACSB Faculty Qualifications: +90% Qualified Faculty
Assurance of Learning led to a curriculum improvement plan (Skills and competencies) and restructuring the Islamic Banking and Finance program
Develop several new programs at the undergraduate and postgraduate levels, such as the BSc in Entrepreneurship, the BSc in Business Analytics, the BSc in International Business and Economics, the Master's in Financial Technology (FINTECH), and the Master's in Real Estate Development and Property Management.
An increase over the last five years in the number of papers published in international academic journals indexed by ISI and Scopus: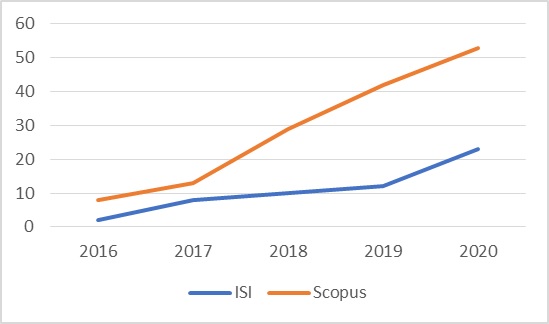 Teaching and Learning – Facts
Research – Facts
International Center for Research in Sustainable Islamic Business and Finance
Research Center for Business Analytics and Responsible Management
Consultancy research unit
Artificial Intelligence for Business laboratory
Promote Scientific Publications (Short papers – International conferences)